See our calendar for the most up to date information on scheduling.
Our Facebook Page has helpful announcements and links to join us online.
Sunday Worship Schedule:
This Sunday 9/27 is ZOOM ONLY.  Rain or Shine, we are doing things a little different this Sunday to prepare for having services inside regularly.  (Beginning Sunday 10/4, the Zoom service will be at 11 am.)
Worship with us live on the lawn under the trees OR via the internet on Zoom [find the link on our calendar] Sunday at 10am.  If the weather looks like it might rain, be sure to check back here or our calendar for an update.
Worship and programs within the building are suspended until further notice.  See our calendar for links to join us for worship together through the internet, including continuing our exciting Wednesday Bible Studies.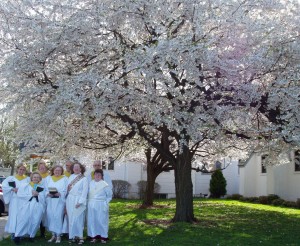 Office Hours:
Office hours will continue Mon-Thur 10am-2pm to receive calls and mail.  The church building is closed.
Food Pantry:
We are working on reopening our food pantry Thursday 7/9/20!
All God's children are welcome!  We invite you all to join us for online worship on Sunday during this time of national emergency.
Online Wednesday Bible Studies are off for the summer at 6pm.  See the item on our calendar for the Zoom link to participate.
*Please check the LCOS Calendar for additional items to those above or any necessary changes to the worship and Sunday School schedules.
If you don't find the information you are looking for or you have additional questions please do not hesitate to contact us.