Bible Study is held on Zoom Wednesday evenings at 7:00pm. We have time to catch up and chat from 7:00-7:15, study from 7:15-8:00 and close with Compline or Vespers. All are Welcome! Each Bible Study is interdisciplinary in nature — including art, architecture, music and history as well as textual analysis.
Current Study: Hebrews – Join us as we read through Hebrews together, making connections to the Septuagint sources and discuss the tapestry of theological ideas and sophisticated language found in this New Testament Book.
Coming up: Our Lenten Study begins March 9, 2022
Past Studies:
Advent 2021: We used Wrestling the Bible — a resource published by Living Lutheran — to explore several difficult stories from Genesis in order to better understand them.
Advent 2020: We studied several passages from Isaiah and how they were interpreted through three different historical contexts. We completed a concurrent art study about how images of Mary and baby Jesus changed through those historical contexts.
Winter 2021: We studied the Ten Commandments using the Small Catechism, Woodcuts and resources
from the ELCA.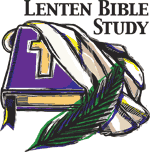 Lent 2021: We studied the Lord's Prayer and Apostles Creed using the Small Catechism, Woodcuts and resources from the ELCA.
Spring 2021: We read Barbara Brown Taylor's, Holy Envy together and used it as a basis for discussing interfaith communication.
Summer 2021: We read the Johannine Epistles together and discussed the humanity and divinity of
Christ.
Fall 2021: We read through the Minor Prophets and did a study of each Prophet which included a deep study of the history of First and Second Temple Judaism.